If you want a detailed step-by-step guide on how to make and perform with Band-in-a-Box backing tracks, have a look at my eBook "Band-in-a-Box 101: A beginners guide to making and performing with Band-in-a-Box backing tracks"
For more information on creating your first song using Band-in-a-Box and RealBand check out my online video course First Song with Band-in-a-Box for Windows
A few weeks back I wrote a blog post about an easy way to make backing tracks for popular covers songs using Band in a Box. Today I am going to teach you how to make a file with scrolling chords and lyrics like this that you can use in your jam sessions or gigs . 
I don't know about you but I have around 300 songs in my repertoire and I can't even remember the password for my computer from one day to the next, let alone the chords and lyrics for 300 songs! So this technique is a life saver for me. 

1. Sort out which key you want to sing in 

The first step is to find the key that is right for your voice, without worrying about whether you can play the chords or not. Finding the sweet spot for your voice will give you a huge amount of confidence so do not skimp on this step and don't just choose the key that the original song is in. 

It is very quick and easy to change the key of a Band in a Box file and you will probably be able to work through all 12 keys in a matter of minutes. Simply pull down the key and select a different key, make sure you choose the option to transpose and set key signature, press play and try and sing along. You will find your sweet spot when you are belting the song out with gusto and your next door neighbor is closing her doors and windows. 

Most of us will have a "favourite" key to sing in. Mine is G and A so, to save time, I usually try those out first.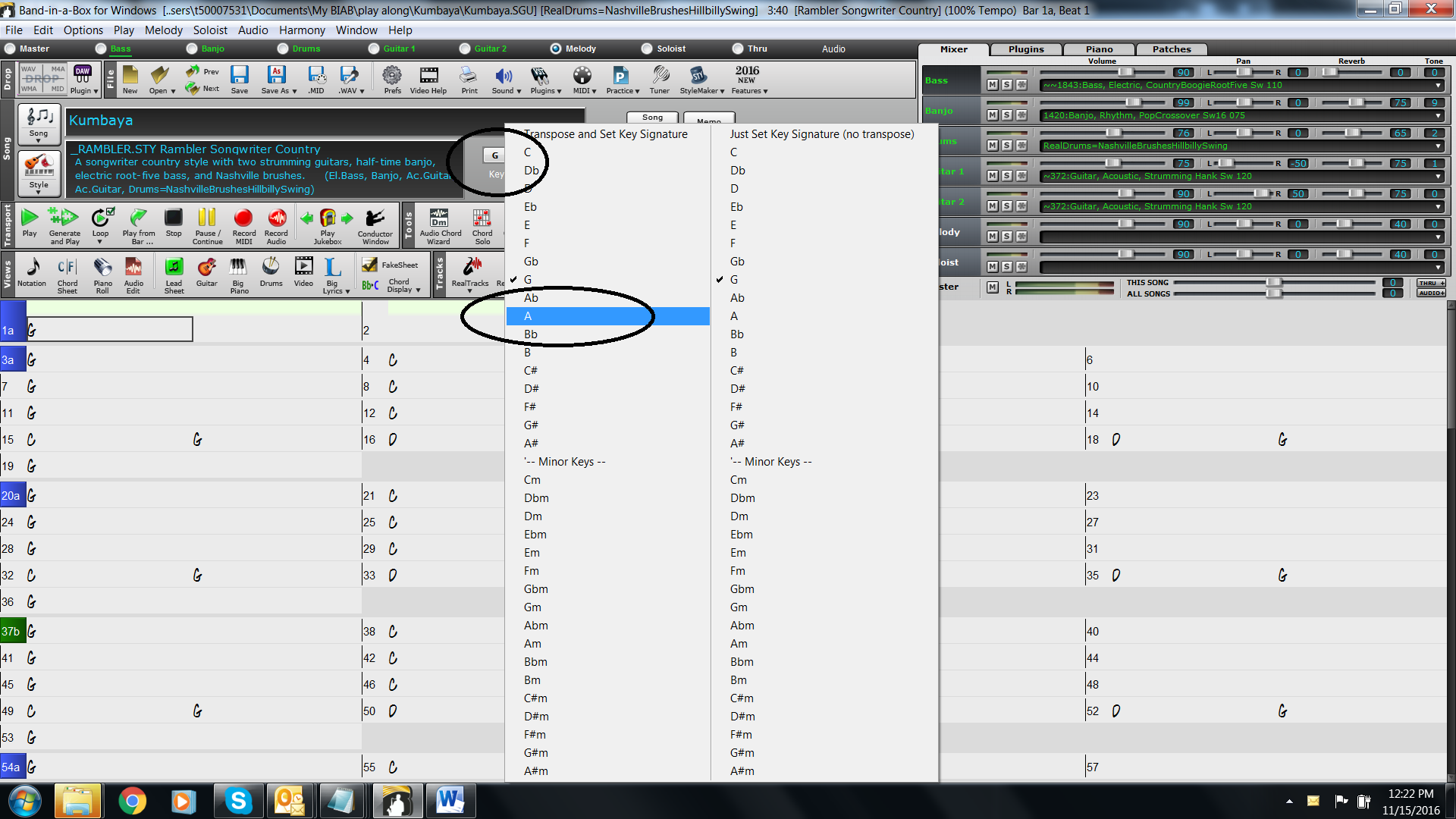 2. Sort out what key you want to play in 

What?????, I hear you saying, don't these have to be the same. Not if you are playing guitar and have a CAPO handy. A capo will allow you to play the chords shapes of one key while the sound that comes out of the guitar is in a different key.  So if the back track is in say Ab but you don't like the look of those chords, you can put a CAPO on the first fret play the chords for the song in G. The sounds that will come out of your guitar will be as if you are playing in Ab. Confusing I know! 

What a capo does is shortens the length of the strings to instantly change the key. So, if you have the capo on fret 2 and you play the shape of a G chord, the sound that will come out of the guitar will actually be  A. Try it. Put a capo on fret 2, strum and hum along to a G chord. Now remove the capo and play an A chord. Same sound? Well there you are! Not only is your guitar in tune but you have learned how to have a back track in one key and play the chords from another! 

So, say, I have decided that the key that is correct for my voice is Ab (see below)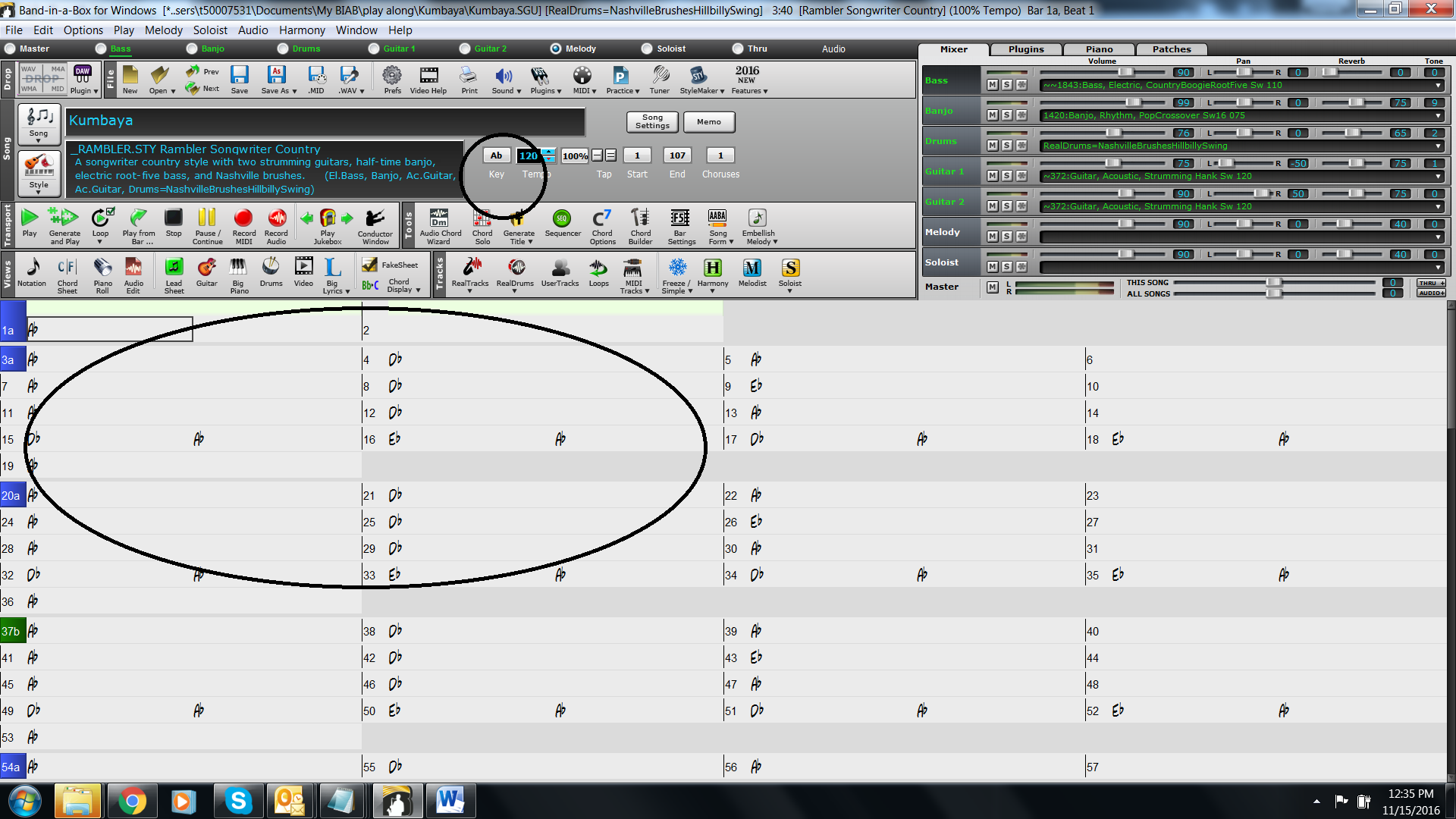 Not many of us would fancy playing those chords. So take the key down to G and see if you like the look of those any better.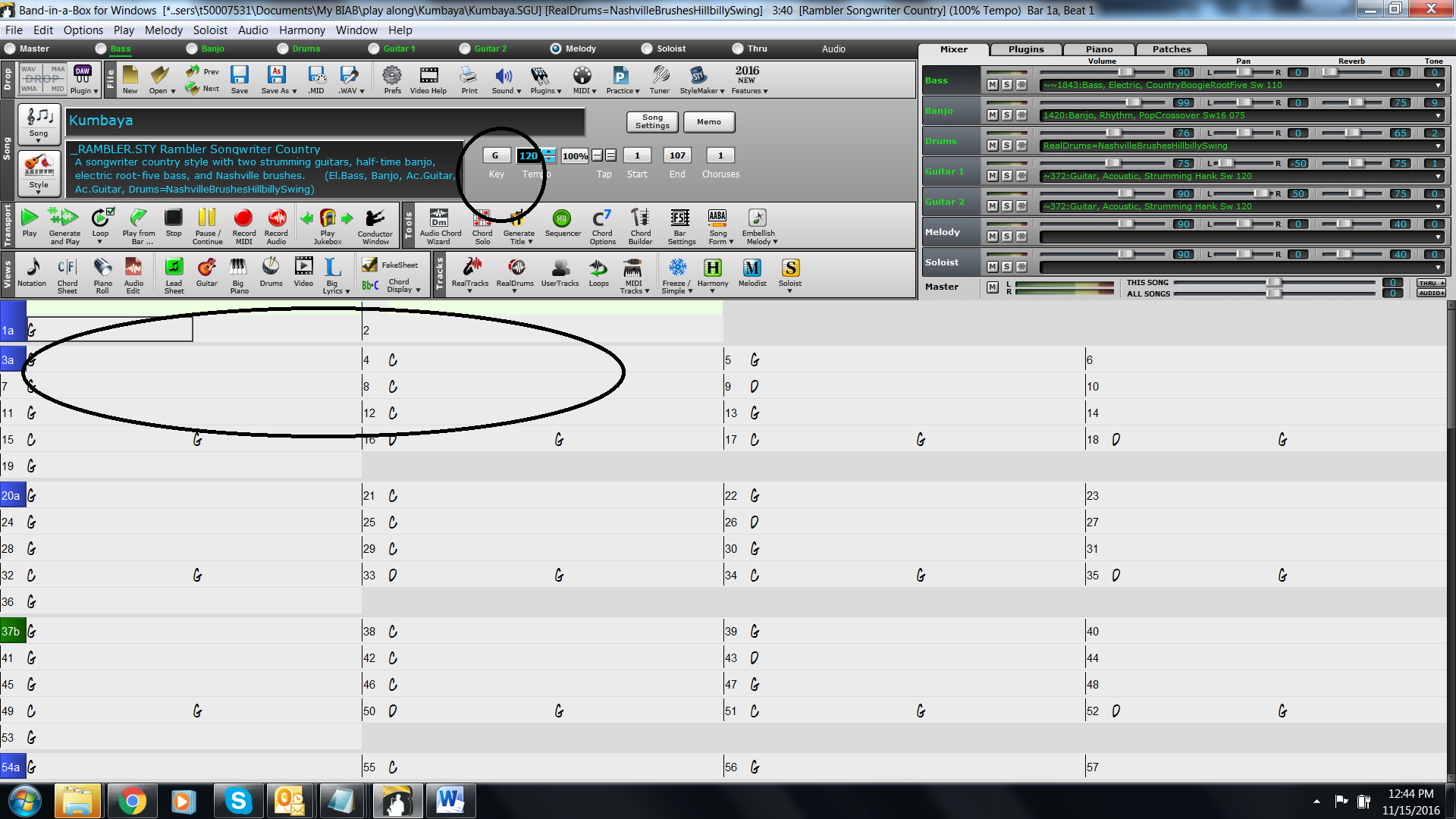 Ah, that is so much better! So now you know you will be playing the song in the chords of G with a capo on the first fret while the back track is in Ab. 

Note; if you play an electronic keyboard you will most likely have a "transpose" button which will do the same thing as a capo on the guitar. With a piano you are not so lucky :)

3. Write out the chords and lyrics 

Now I open up notepad and copy or type out the correct lyrics.  I then type in the chords in among the textual lyrics in exactly the right spot. If I am using a capo I will write Capo 1 or Capo 2, etc on the first line of the file. 

Here is an example of a text file I would write out for Amazing Grace if I decide to use a back track in Ab and play in G with a capo on fret 1 .
 
"Amazing Grace (Capo 1) 
(G) Amazing (G7) grace how (C) sweet the (G) sound 
That (G) saved a (G7) wretch like (D7) me (D7) 
I (G) once was (G7) lost, but (C) now I'm (G) found 
Was (G) blind but (D7) now I (G) see 
  
T'was (G) grace that (G7) taught my (C) heart to (G) fear 
And (G) grace my (G7) fears rel(D7)ieved 
How (G) precious (G7) did that (C) grace app(G)ear 
The (G) hour I (D7) first bel(G)ieved" 

Make sure you spell out the chords and lyrics for all the choruses, intros, instrumentals and outros.
 
3. Check that your chords and lyrics match up to the Band in a Box file 

Before going any further make sure you have everything correctly laid out. Do this by opening up the text file on your computer, pressing play on the Band in a Box file and playing and singing the song through from start to finish. 

4. Check your chords and lyrics again 

Okay so you may have done a good job the first time but just do it again, otherwise you waste a lot of further time down the line if your chords and lyrics to not correctly match up to the Band in a Box file. 

5. Render your Band in a Box file to MP3 

Select "Audio", select Render to stereo .WAV file etc.Tick the "Normalize" button and then press the "Save in other Audio format and MP3". Ticking the "Normalize" button will ensure that all your MP3s files have a (more or less) uniform volume.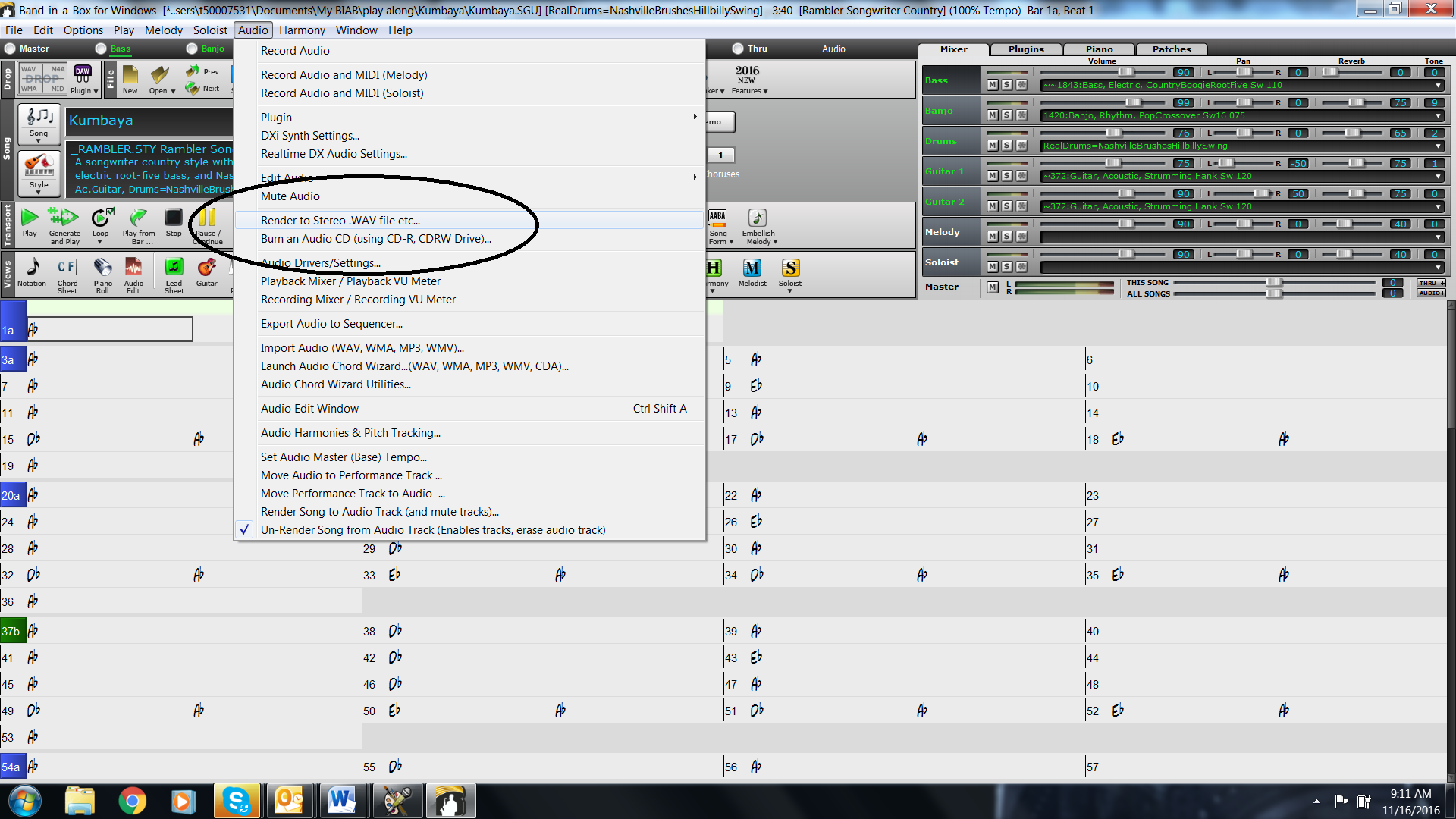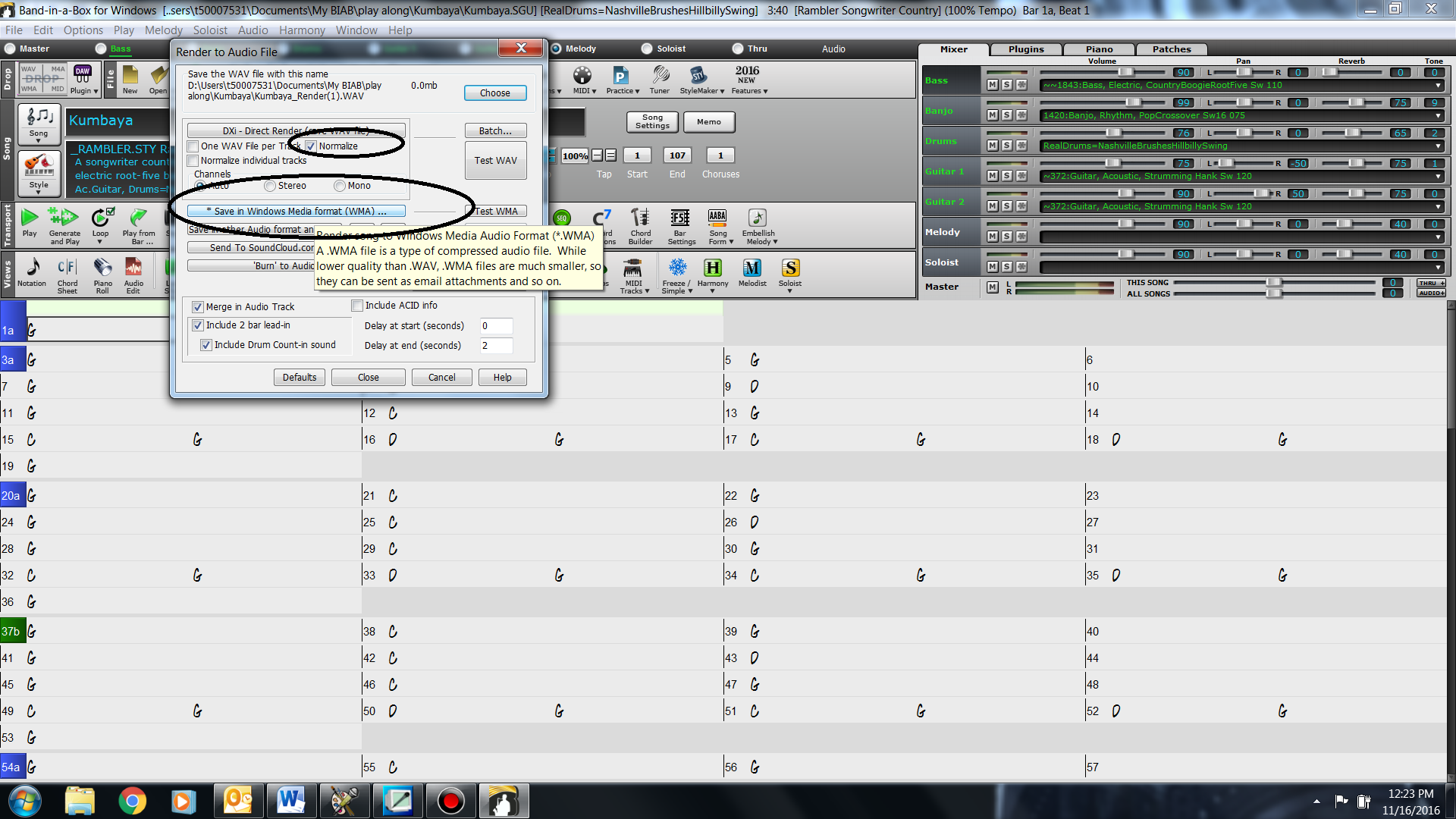 5. Create a scrolling lyrics and chords file 

And now for the secret sauce….. I create a karaoke type file that includes chords, lyrics AND back track. How nifty is that! 

To create this file I use a program called Karaoke CD+G Creator from Power Karaoke. However, any software with which you can create CD+G files will do. The cost of the Karaoke CD+G creator is $99 but it is totally worth the price. There is a free trial version but over time it will put nonsense in your files and you will need to buy the full version. 

Open up Karaoke CD+G creator. The wizard should open up automatically but if not, press the wizard button on the top left hand side of the screen.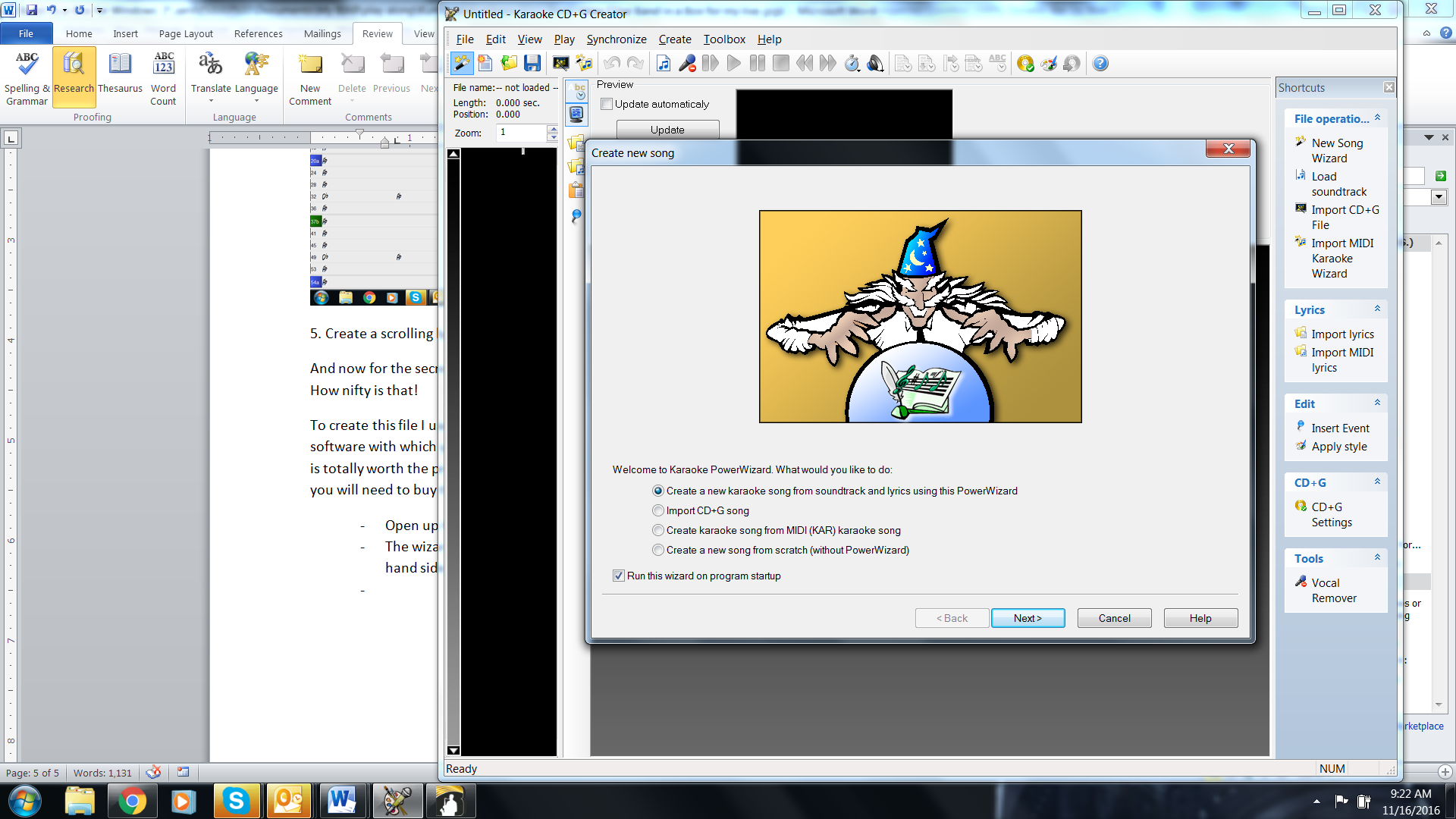 Select the first option. Then select the Band in a Box file that you have just outputted to MP3 file as the soundtrack.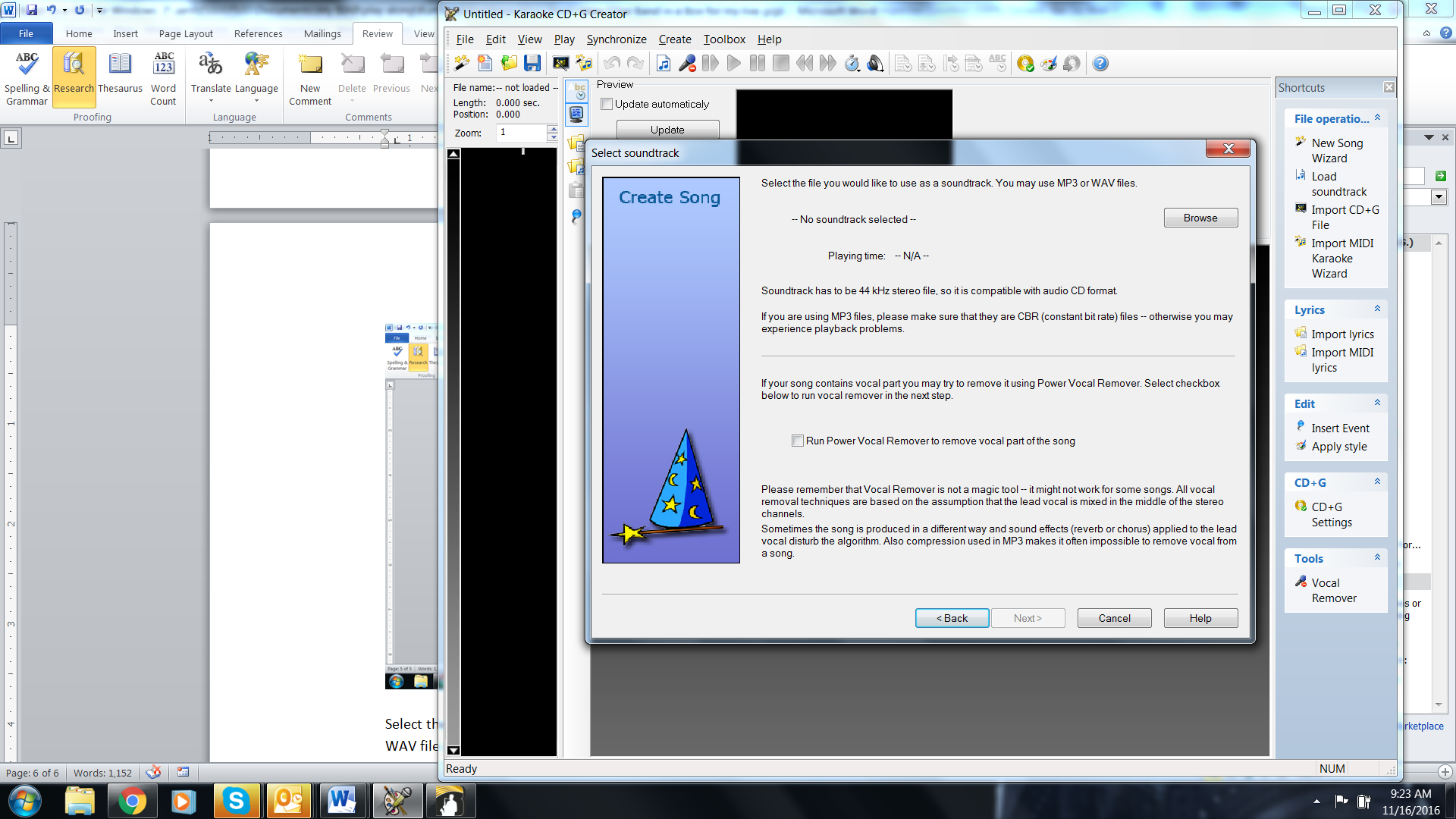 Press next then cut and paste your lyrics and chords from the notepad file into the space provided for lyrics.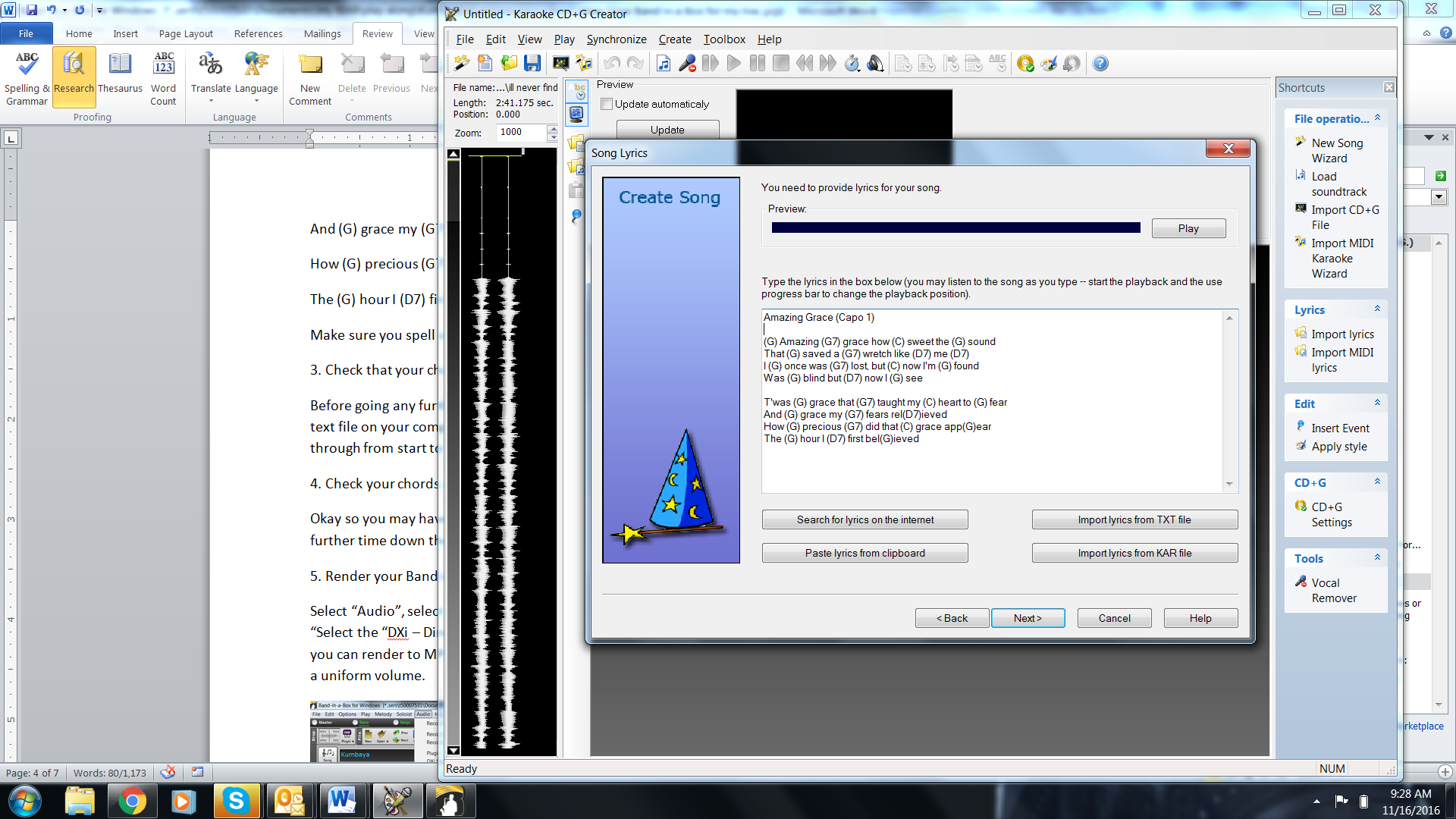 Press next and then "Start synchronizing"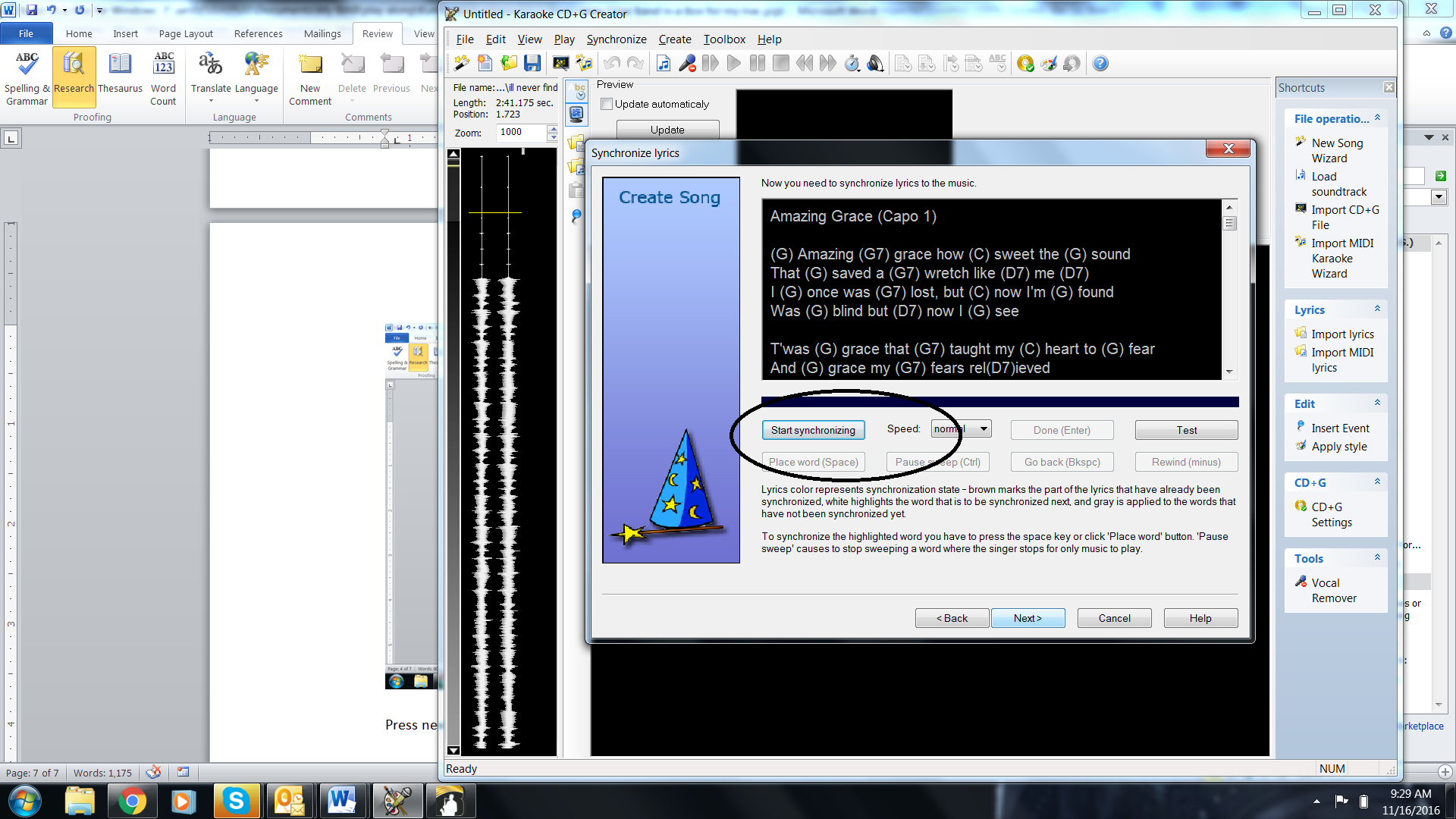 The back track will play (you will see the wav form on the right hand side of the screen) and you can synchronize the lyrics and chords to the back track. Note; this is quite tricky to start with but you do get better at it the more you do it! 
  
Test it out a few times by pressing the play button. Create and play your CDG file.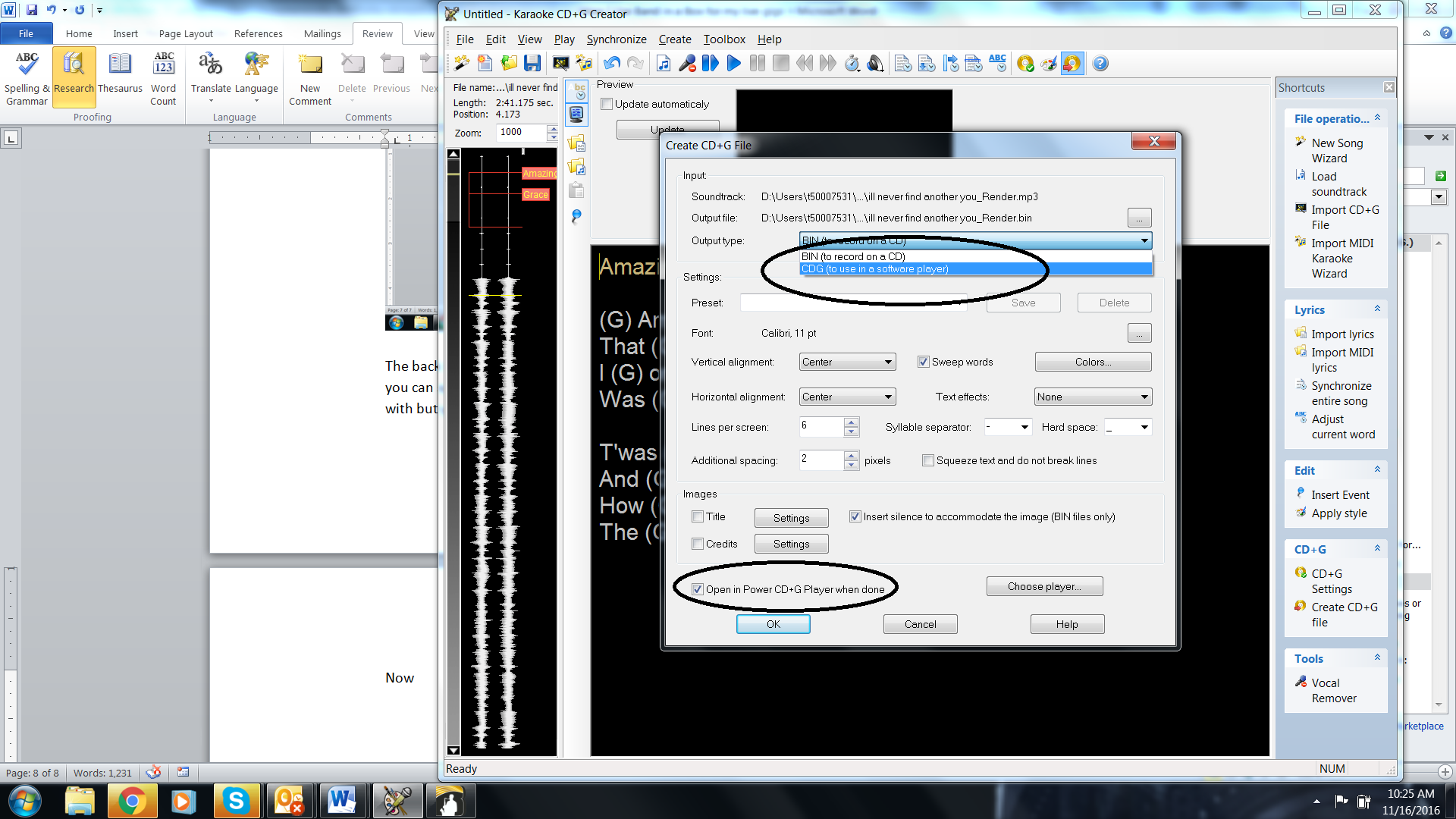 Make sure that you select "CDG in the drop down of Output Type and that "Open in Power CDG+MP3" is ticked. Karaoke Creator will create a CDG file with a name that exactly matches the name of the MP3 in the same directory as the MP3 file. This is how the software knows which CDG file (with the scrolling lyrics and chords) to play along with what back track. 
  
So now you have Karaoke files with Chords, lyrics and back track all linked and timed to work together.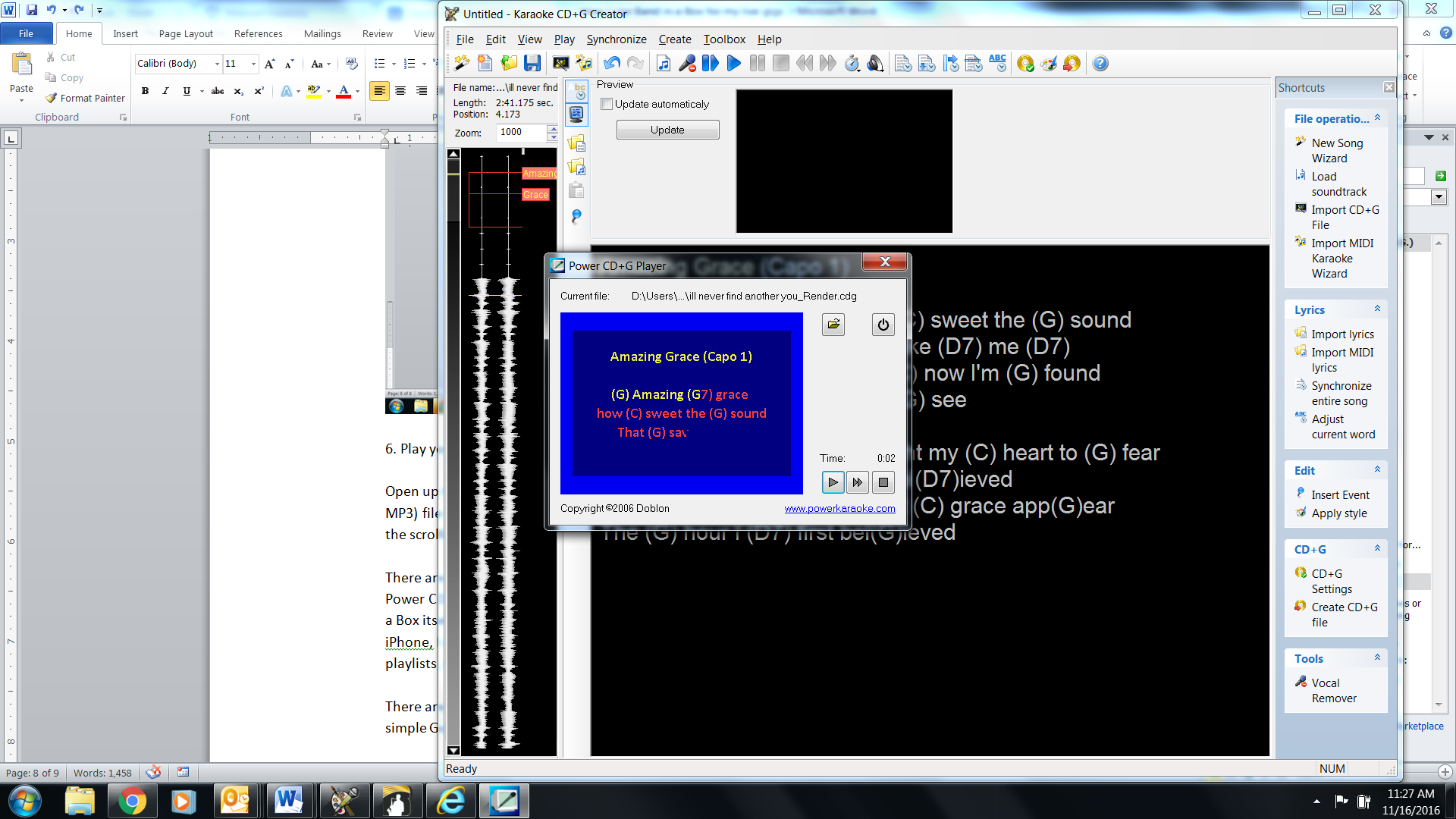 7. Create a video (MP4) 

You can either use the CGD+MP3 files as they are (using a CDG+MP3 player as explained below) OR you can make an MP4 video file that will play on most devices. 
  
To make a video, download the free version of Bandicam from www.bandicam.com (note; DO NOT download it from any other site or you will get malware on your computer). Setup the onscreen rectangle to record the scrolling lyrics file as it is playing. The resulting video file will be created in a Bandicam folder under My Documents. Simply rename the MP4 file to the name of the song and Bob's your aunty.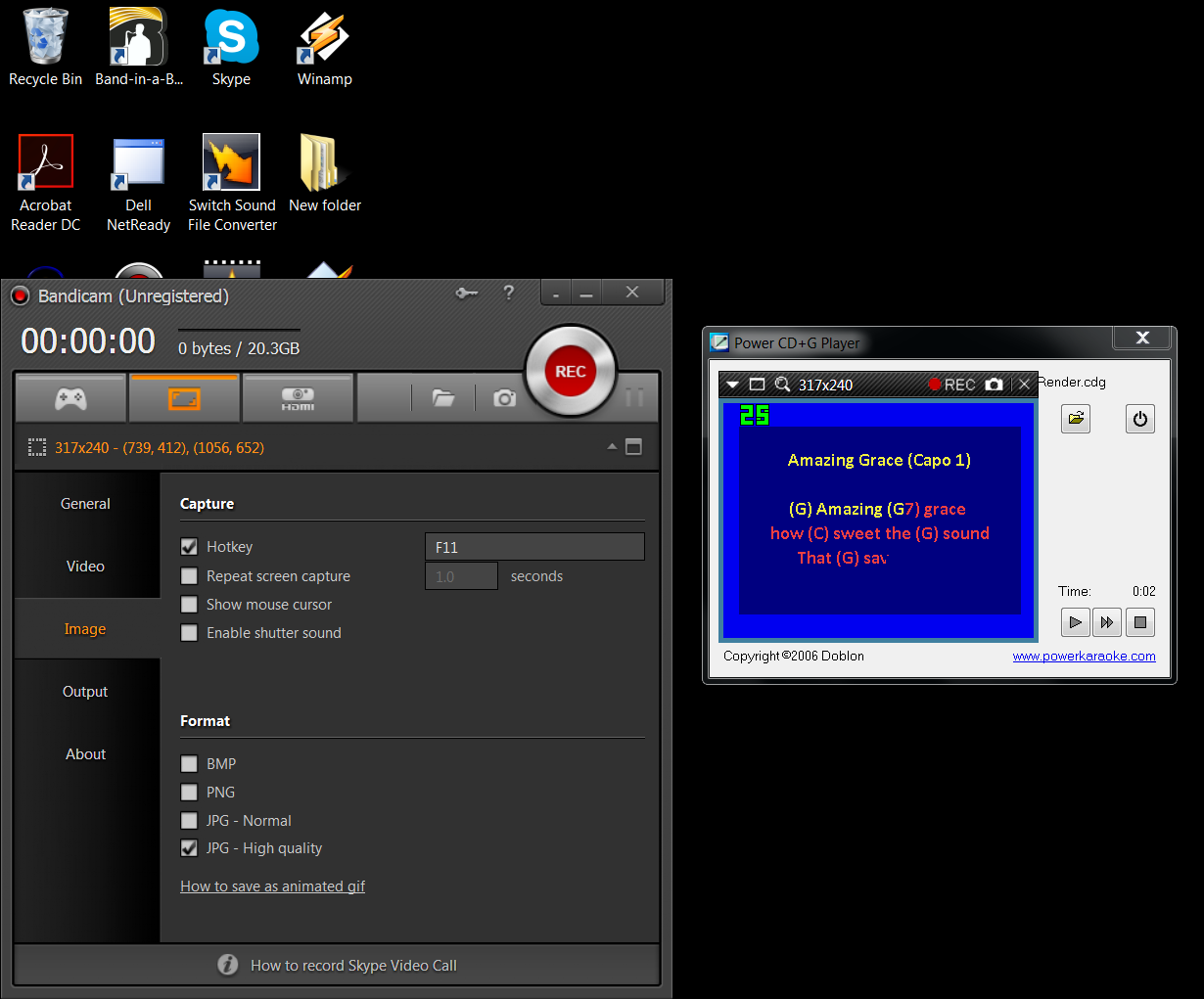 7. Plug in, play along and have fun 
  
To use the scrolling lyric and back track files at a live gig there are two basic options; 
You can play the CDG+MP3 files. To do this you just need the matching files (in the same folder) and some software that will allow you to play these types of files. 
You can play the MP4 files. To do this you just need any device that plays video. Any old smart phone will do!! 
  
On my laptop I use Winamp with a free CDG plugin. This plays the CDG+MP3 files. On my iPhone, I use an app called Karaoke Free. These allow me to setup and manage playlists, which I find invaluable for my gigs.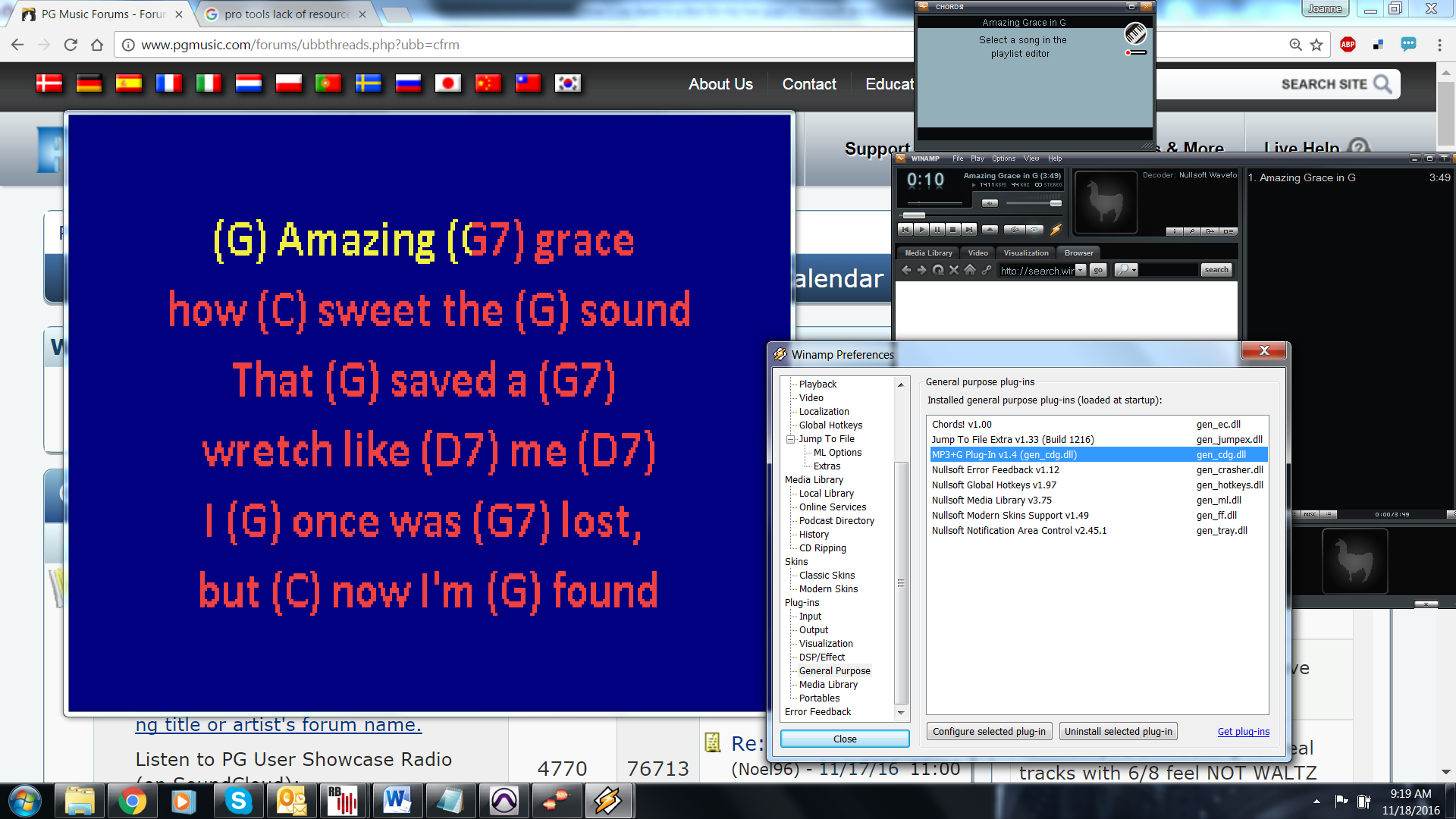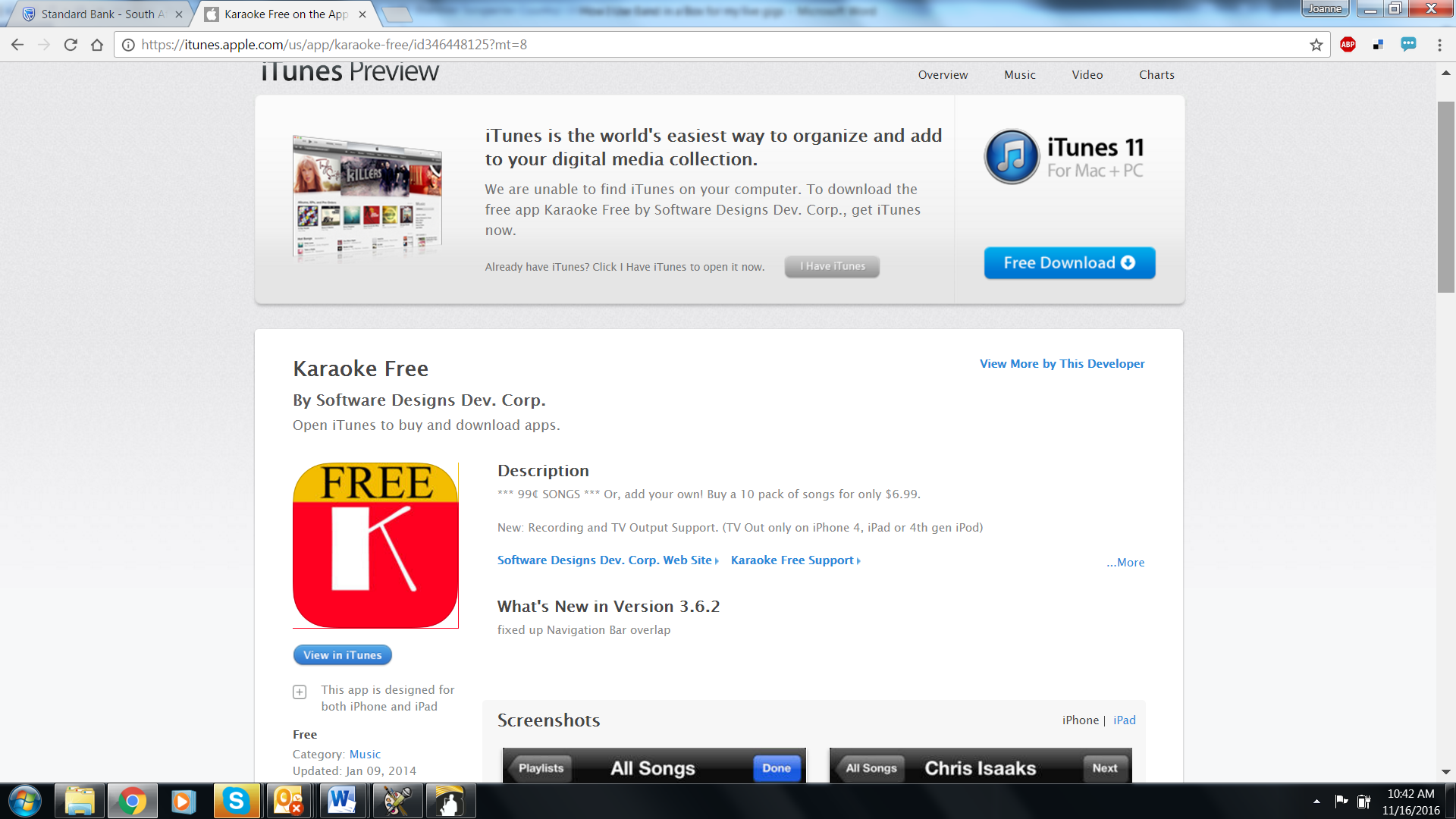 Plug your phone or laptop into your PA, home stereo, headphones or even into your TV and jam away. Most importantly, have fun! 
  
I would love to hear if you have any feedback on this, good, bad or indifferent and also how you handle your lyrics and chords in a live gig situation.